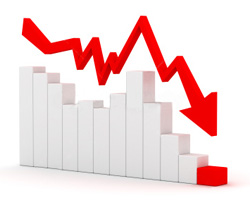 Pokerscout.com is a website and service that bills itself as the leading source of information about the online poker industry. Their online poker liquidity(traffic) rankings give a clear picture of the internet poker industry as a whole.
By looking at the data that Pokerscout provides, one can clearly see the beginning of a downtrend in poker traffic at the top three NJ sites:Party Borgata, All American [888], and WSOP.
While it is obviously still early days in the NJ market, one would not expect to see such early declining player liquidity numbers and even more so on the three top sites. And ALL the sites are showing declining liquidity. It is not as if one site is declining to the benefit of another site.
Less players on the sites means less active tables. Less active tables means less variety for the would-be players and hence less attractive for players to play. This in turn leads to less action and less rake for the casinos.
I have said for quite some time now that due to the finite number of players in NJ and the natural attrition and drop-off rate that occurs in poker sites, there is no possible way that the NJ poker sites can continue to show double digit month over month growth. It is bound to continually decrease and level off.
This in turn means that even the "revised" NJ tax revenue figures will be missed by a substantial margin.
This does not bode well for the online poker industry in the US. Without proper liquidity (which can only happen with Federal approval and inter-state compacts or potentially with much larger populated states [CA]), the NJ online gambling experiment is bound to fail and this will provide the growing anti-online gambling folks with much needed fodder to support their position.
As the anti-online and pro-online battle heats up over the next few weeks and months, the numbers coming out of NJ are definitely not helping the pro-online cause.
It looks like Steve Wynn made the best decision here. Wait on the sidelines and let the others spend the money and battle it out.
To see the charts I describe above please click on the following links:
1)Party Borgata Network (New Jersey) live traffic report | PokerScout.
2) WSOP.com (New Jersey) live traffic report | PokerScout.
3) All American Poker Network – 888 (New Jersey) live traffic report | PokerScout.
Alex Igelman is a gaming lawyer and consultantbased in Toronto, Ontario, Canada. In 2007,Alex Igelman foundedGaming Research Partners, a full servicegaming and eSports consultancy that specializes in research and business development.
Latest posts by Alex Igelman (see all)